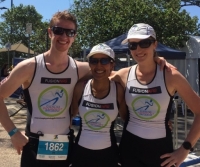 We also have a triathon team that compete at the Noosa and Mooloolaba triathlons (and sometimes a half or full ironman here and there).
Training: 7am Sunday mornings.
Where: Meet at the UQ pool.
Training consists of a swim, ride and run of varying distances and intensities (depending on the event).
Come along and join in!